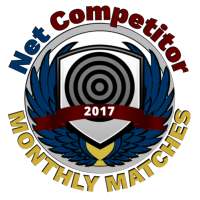 The 2017 Net Competitor Monthly Matches are here!
Shooters of all ages, both beginners & experienced are invited to compete for awards in $3 monthly online "postal" style matches, featuring favorite shooting disciplines in rifle, pistol, shotgun and archery. Each month is a new chance to be amongst the top 16 shooters in our League of Champions, our complimentary 2 week invitation only annual championship. The more you compete the more you can win and the greater the chance you will be one of the "Super 16"!
Over 25 Matches Each Month
The Monthly Match lineup starts with some popular disciplines suggested by Net Competitor members and more will be added each month.
Both sporter & precision in air and .22 smallbore rifle & pistol
Iron sights only matches
International style pistol and rifle shooting
Classic NRA courses
"Rookie" divisions for new shooters
25 shot Trap & 300 round Archery
We're expanding our "rookie" match lineup for new shooters just starting in smallbore and air rifle. Learn to shoot in competition, have fun, earn an award! It's a great way to teach the sport of shooting!
Win Awards Monthly, Quarterly & Annually
We'll be giving awards for participation, first, second and third place in each match, each month! Leaders each Quarter will be awarded! The top 16 shooters in each discipline will advance to the complimentary 2 week "League of Champions" Invitational Championship. The more you compete the more you can win and the greater the chance you will be one of the "Super 16"!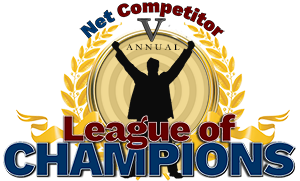 It's Easy and Fun to Compete
Simply create your FREE profile on Net Competitor, browse the matches available, click register & pay to join. You have until the end of the month to record your scores on the site. Once the month ends the scores will be revealed and winners announced. You can compete every month!
Compete from Anywhere in the World
Shoot Targets at Your Range or Home
NO Scanner/Electronic Scoring Required
Enter or Import Scores on the Website
Enter Scores Between 1st Day & Deadline
Only $3 per person per match to join!
Register now at http://www.netcompetitor.com/monthly_matches.html
Disciplines:
Pistol
10 Meter Air Pistol - Open
25yd Precision Pistol (Bullseye) - Open
50' Precision Pistol (Bullseye) - Open 
Free Pistol - Open
Rookies
Air Rifle Prone - Rookie
Air Rifle Standing - Rookie
Smallbore Rifle Prone - Rookie
Air Rifle
Precision Air Rifle 3P - Open
Precision Air Rifle Standing - Open 3x10
Precision Air Rifle Standing - Open 6x10
Smallbore Rifle
Precision Smallbore Rifle 3P - Open
Precision Smallbore Rifle 3P - Open - IRONS ONLY 
Precision Smallbore Rifle 4P - Open 
Precision Smallbore Rifle 4P - Open - IRONS ONLY
Precision Smallbore Rifle Prone - Open
Precision Smallbore Rifle Prone - Open - IRONS ONLY
Precision Smallbore Rifle Standing - Open
Precision Smallbore Rifle Standing - Open - IRONS ONLY
Sporter Air Rifle
Sporter Air Rifle 3P - Open
Sporter Air Rifle 4P - Open
Sporter Air Rifle Standing - Open 3x10
Sporter Air Rifle Standing - Open 6x10
Sporter Smallbore Rifle
Sporter Smallbore Rifle 3P - Open
Sporter Smallbore Rifle 4P - Open
Sporter Smallbore Rifle Prone - Open
Sporter Smallbore Rifle Standing - Open
Shotgun
Archery