Gwhite wrote:
The most common recommendation is that the visual width of the front sight should roughly match the apparent width of the black, just as shown in Deadeyedick's picture. If your arms are atypically short or long, that's going to have a big effect on the effective width required. To maintain the maximum amount of symmetry in the sight picture, you also want to keep the size of the side gaps roughly equal to the gap below the black: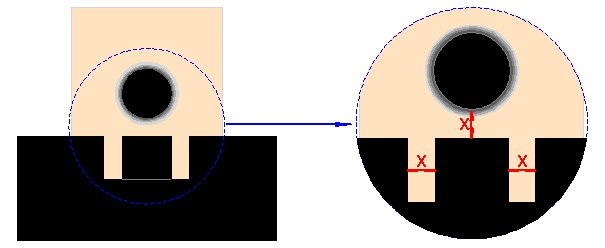 We are currently fighting a related battle with Benelli standard pistols on the collegiate team I coach. The Benellis have only one front sight width available, and the older models with fixed rear sights all came with the narrowest sight notch. The front sight width is OK for most shooters, but the rear sight is so narrow that if you have long arms, there is almost NO light on either side. I just bought half a dozen of the middle width rear blades. Now that Benelli has switched to an adjustable width rear sight, the supply of the widest fixed notches seems to have dried up completely. Once we've swapped out a bunch of the narrow ones, I'm going to take them to the milling machine & make some extra wide ones.
This is a problem I have messed with for thirty years. My successful solution is to buy a 3/16" chainsaw file from a hardware store. They have no taper; even the most inept can cut a perfect half-moon rear notch with one. This gives about the perfect amount of light on each side, besides being a very effective sight picture.
Don't like the idea? Too bad! The Russians were constantly beating everyone with this setup back in the day.
I also put a wider front sight on every gun that will take one, mainly my air pistols.