Hello,
I will try my best to answer all of your questions.
1. If you don't adjust the duplex ring(via adjustment knobs), your sight picture is going to look something like this. It will be necessary for you to adjust the duplex until all the rings are properly aligned.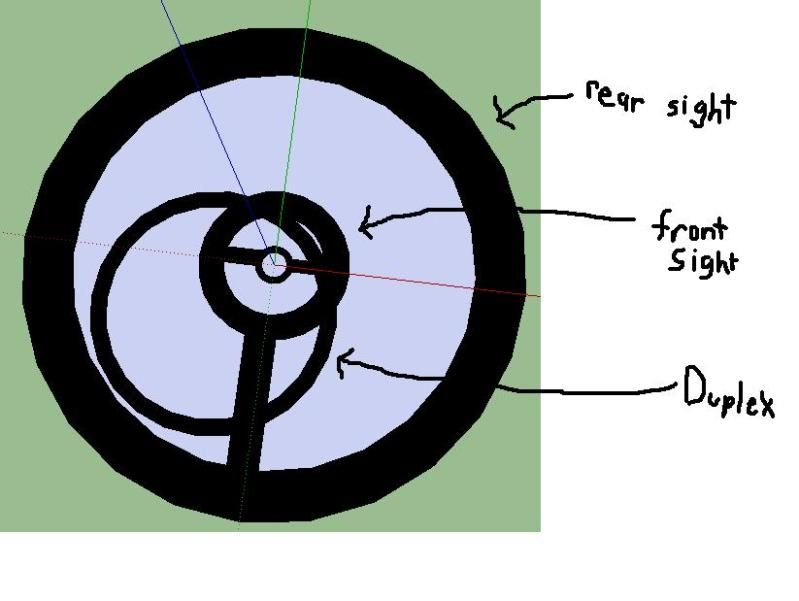 2. need clarification on your second question
3. sight radius and personal preference do govern which insert you choose. Personally, 3.8 is slightly too large(although still perfectly adequate), and this is on an air rifle! Personally, I'm not too sure why someone would want an even larger ring. For small bore(and air rifle), I would like mec to create an even smaller ring; Personally, I think either a 3.6 or a 3.4 would be perfect!
4. I would not consider myself a "prodigious shot". Before using the duplex, my scores(air rifle) would be anywhere between 570-582. Since using the duplex, my scores have been between 577-582. My scores didn't necessarily get "better"(I was always capable of shooting 580s) but it did become more consistent.
5. I purchased mine from shootingequipment.de. Michael Klein is willing to answer any of your questions and will get back to you in a timely fashion. He ships your orders quickly and will provide tracking upon request, but be warned! Whenever purchasing any item from over seas, your package can get held in customs for quite some time! Mine was held for about 5 weeks before finally being shipped to me.
edit:
I forgot, you could also try giving Marcus Raab at Centershot Sports a call! I remember calling him about the duplex and he said he could order it for you if you wanted to buy it from someone in the US.
I hope this answered most of your questions! I'm here if you need any more information!
-Jordan