Many of us have received some of the old CMP Travel Range targets with aluminum Faces.
From what I recall from Richard, the steel faces are something like $385.
In Albuquerque we have moved 6 of these to a smallbore range which we can use for either 10m work or 50ft work.
Our challenge is to protect those aluminum faces from a smallbore impact. Rather than fork out money (which we don't have) for new faces, Richard suggested using a steel face cover.
So I've come up with using 10ga cold rolled A366 steel to protect the faces.
I've made these to velcro on top of the aluminum faces ... to protect the faces only. I know 10ga will dimple, but the aluminum behind it will be protected.
These plates made of 10ga weigh about 5lb2oz so velcro strips (One on top & 1 on bottom) easily attaches them to the regular face.
I did a test to see how much this steel will dimple with both STD velocity and high velocity ammo.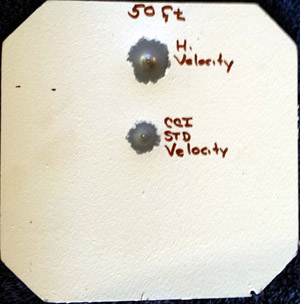 Very acceptable for our use as we only use STD velocity ammo on our range.
Here is what they look like:
The drawing can be downloaded at:
http://www.vc4hss.com/_2018_Info/22Plate/170830_ProtectionPlate.pdf