I have no affiliation with the manufacturer of this scaled down biathlon target.
http://www.rimfiresteel.com/
I'm not sure how I found the target, but I thought it was pretty cool and I hoping to use it in my basement with my air rifle. I ordered it on Monday and Brown just dropped it off a few hours ago. Here are my initial impressions of it.
It came well packaged with the following items:
- target system
- 2 steel rods for the legs
- 50' solid braided nylon rope
The face of the target is 18" wide with five 1.5" diameter targets.
The thing is well built and it has a nice solid feel to it when you actuate the targets with your hands. The reset also works well and on the first pull too. There are springs on each of the targets which are why it has a positive feel and reset.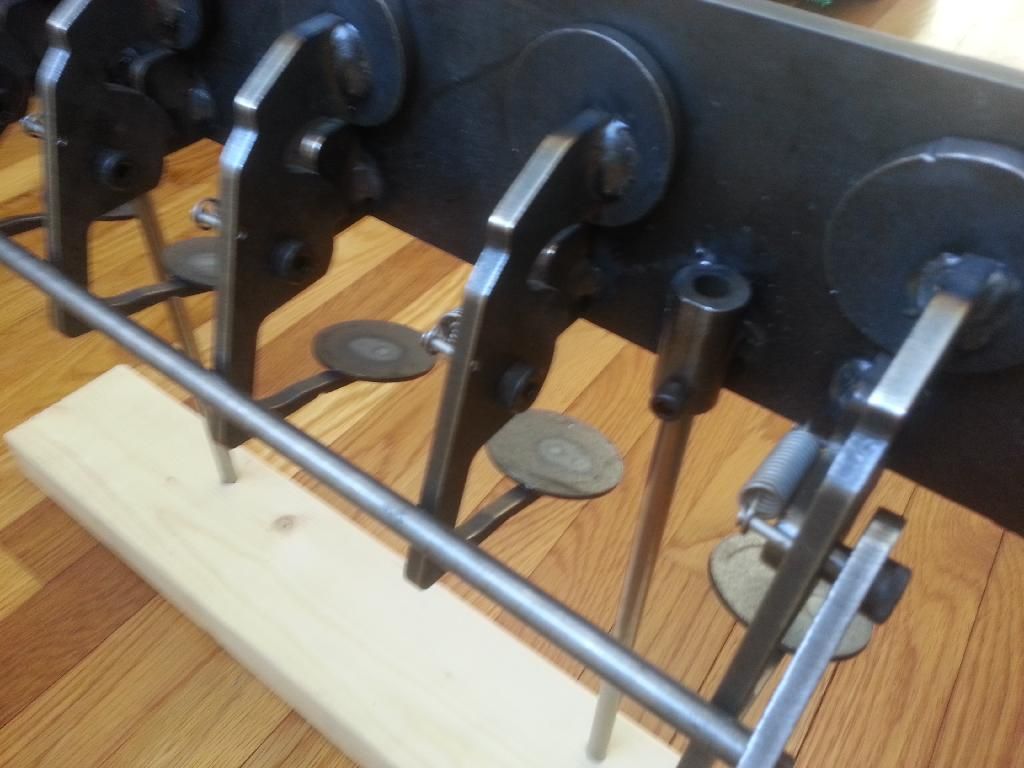 Being the impulsive person I am I immediately set it up on a 2x4 and put it at the opposite end of my basement (~40').
I could not knock down the targets with my PCP .177 air rifle with the pressure set to 200 bar. If you look closely at the Alpha target, you'll see that the target is marked. So I took out my .22 RWS Panther air rifle and shot at it.
The targets would still not knock down, if you look at the Bravo target you can see the pellet impression and on the Charlie target the pellet is stuck to the face. Basically the springs are a little too heavy for use with an air rifle. I disengaged the springs and my .177 was able to knock over the targets with ease. But with the spring removed, the reset did not work as well. When I go to the hardware store to get paint, I'm going to look into getting some lighter springs.
Some of you are probably wondering why I got this target instead of the one from Devin. Our club has 5 of their BT500s as well as 4 of their BT200s, so it's not that I don't know about them. I wanted a target that I could use with all air rifle and rimfire. I'll eventually get a few more so that I can make a mini range to practice on at a friend's farm. Cost of this target with shipping is $200, the Devin is $165..
Once I get it painted up, I'll post some more pics.